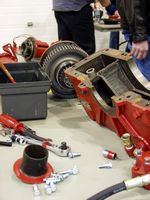 The 2013 Fire Mechanics School is over.
I would like to give a big thank you to the following companies and persons for providing instruction
Bryce Anderson, Hale/Class 1




Chuck Hutchins, Hale/Class 1


Keith Klassen, Waterous/Pneumax
Norberto Nieves, C.E. Niehoff & Co.
Tim Roach, Prevailing Communications
Anthony Bulygo, Bulygo & Associates
Don Gleason, Eugene Fire Dept.
Dick Rhoades, Airgas
Todd Page, Stihl Northwest
Bruce Amacker, Turbo Training.com
Dick Straw, Braun Northwest
The following agencies for letting us use their apparatus for the classes,

Columbia River Fire & Rescue
Stayton Fire
Silverton Fire
Lane Electric Cooperative

And the staff at the Chemeketa College for accomodating our needs
Larry Feller & Tania Kleinschmit
And a very big THANK YOU to Tina Schneider of Incredible Edibles for the magnificent lunches she provided us each day.
Do you have a maintenance problem and don't know where to find the answer? Check out the "EVT Tech Talk" mechanics forum. Fellow mechanics, on this free website, may already have the answer to your question. Their link is listed on our 'Website Links' page. Check it out...


The Oregon Fire Apparatus & Equipment Mechanics Association is a non-profit educational organization.
The purpose of this organization is to provide complete and comprehensive education and certification on the service and maintenance of emergency apparatus.
OFAEMA works with the Emergency Vehicle Technician Certification Program to assure that all of our preparation classes meet their education standards. This will assure that the training mechanics receive at the local level is consistant with the training recognized by other states.

You can contact the Education committee by email or phone. rick@ofaema.org or 503-369-2053.
Next Board of Directors Meeting
December 28, 2013
Silverton Fire District
Silverton, Oregon