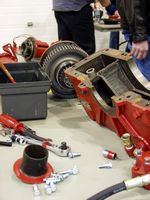 The 2015 School is over now, see pictures from this years classes

here.
Thank you to all the people that attended our annual training school, it's here for you.
We would also like to send out a big thank you to the following Departments, Businesses and individuals for helping us make this years school a success.

Waterous Pumps, Brian Shorten
Stihl Northwest, J.D. Fernstrom
Sea Western, Steve Morris
Carquest Technical Institute, Monte Miller
Fire Rescue Equipment Northwest, Chris Mills
FRC Products, Craig Lecy
Foam Pro, Dave Roll
Mac's Radiator, Gary Mangle
Don Gleason, Pump Testing
Anthony Bulygo, Physics of Aerials
Pacific Power Group, Clint O'Neill
Bruce Amacker, Turbo Training,
Clackamas County Motor Carrier Division, Kevin Peterson
Clackamas Fire, use of DD13 pumper
Tualatin Valley Fire & Rescue, use of 60 Series Pumper
Tania Kleinschmidt, Bill Klein and the rest of the staff at the Chemeketa College Regional training facility.
Thanks Again, from the 2015 OFAEMA Board.
MARK YOU CALENDAR FOR NEXT YEARS SCHOOL, MARCH 7-11TH, 2016.
*****************************************************************************************************
****Check out the Job Posting page. 1/16/2015****
Do you have a maintenance problem and don't know where to find the answer? Check out the "EVT Tech Talk" mechanics forum. Fellow mechanics, on this free website, may already have the answer to your question. Their link is listed on our 'Website Links' page. Check it out...


The Oregon Fire Apparatus & Equipment Mechanics Association is a non-profit educational organization.
The purpose of this organization is to provide complete and comprehensive education and certification on the service and maintenance of emergency apparatus.
OFAEMA works with the Emergency Vehicle Technician Certification Program to assure that all of our preparation classes meet their education standards. This will assure that the training mechanics receive at the local level is consistant with the training recognized by other states.

You can contact the Education committee by email or phone. rick@ofaema.org or 503-369-2053.
Next Board of Directors Meeting
June 27th, 2015 @ 12:00
Location: Grants Pass