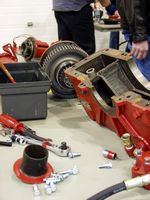 The 2017, 37th annual Oregon Fire Apparatus & Equipment Mechanics Association classes are being finalized right now and will be on here shortly, please keep checking back. I'm finalizing instructors now.
2017 classes include Aerial Ladder, Fire pumps & Accessories, 6.7 Ford Powerstroke Diesel, Mobile hydraulics, Dangers of high pressure hydraulics, Fire Apparatus Electrical, Ambulance Electrical, Ambulance heating & cooling, Ground ladder testing, and more.
Thanks for being patient.
Rick Fletcher
Do you have a maintenance problem and don't know where to find the answer? Check out the "EVT Tech Talk" mechanics forum. Fellow mechanics, on this free website, may already have the answer to your question. Their link is listed on our 'Website Links' page. Check it out...


The Oregon Fire Apparatus & Equipment Mechanics Association is a non-profit educational organization.
The purpose of this organization is to provide complete and comprehensive education and certification on the service and maintenance of emergency apparatus.
OFAEMA works with the Emergency Vehicle Technician Certification Program to assure that all of our preparation classes meet their education standards. This will assure that the training mechanics receive at the local level is consistant with the training recognized by other states.

You can contact the Education committee by email or phone. rick@ofaema.org or 503-369-2053.
Next Board of Directors Meeting
March 5th, 201 @ 6:30 pm
Phoenix Inn, Salem Or.