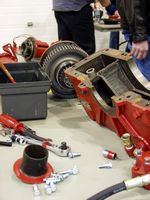 The 2015 School class announcement is viewable now, and I will open registration very soon. Please feel free to call me if you have any questions. 503-369-2053
The Annual George Eisert Memorial Scholarship and the True North Scholarship applications are on the school announcement, and are available to be filled out now.
Click here for 2015 announcement.
****Check out the Job Posting page, we have a new posting on there. 1/16/2015****
Do you have a maintenance problem and don't know where to find the answer? Check out the "EVT Tech Talk" mechanics forum. Fellow mechanics, on this free website, may already have the answer to your question. Their link is listed on our 'Website Links' page. Check it out...


The Oregon Fire Apparatus & Equipment Mechanics Association is a non-profit educational organization.
The purpose of this organization is to provide complete and comprehensive education and certification on the service and maintenance of emergency apparatus.
OFAEMA works with the Emergency Vehicle Technician Certification Program to assure that all of our preparation classes meet their education standards. This will assure that the training mechanics receive at the local level is consistant with the training recognized by other states.

You can contact the Education committee by email or phone. rick@ofaema.org or 503-369-2053.
Next Board of Directors Meeting
March 1st, 2015
Salem Oregon.