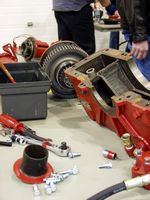 The 38th annual Oregon Fire Apparatus & Equipment Mechanics Association classes are over for 2018.
Thanks to all that attended and made our school another success.
Special thanks to
Al Conkle, Conkle's Fire Services
Ken Kempfer, Fox Valley Technical college
Mel, Schampers, Fox Valley Technical College
Kevin Rose & Rick Mello, Haldex Corp.
John Lightner, Cummins Northwest
Mike Thorn, Oregon Apparatus Repair
Hughes Fire Equipment, Pierce Instructor sponsorship
Keizer Fire Dist., Apparatus use
Stayton Fire Dist., Apparatus use
Clackamas Fire Dist. Apparatus use
Chemeketa College, Brooks campus
And all our Vendors,
Portwood parts
Baxter Auto Parts
Whelen Lighting
Lifeflight
Cummins Northwest
Columbia Communications
Cascade fire
Braun Northwest
HME/ Rod Meade Enterprises
West Coast Hose Repair

Education Committee Chair
Rick Fletcher
Do you have a maintenance problem and don't know where to find the answer? Check out the "EVT Tech Talk" mechanics forum.
Fellow mechanics, on this free website, may already have the answer to your question.


The Oregon Fire Apparatus & Equipment Mechanics Association is a non-profit educational organization.
The purpose of this organization is to provide complete and comprehensive education and certification on the service and maintenance of emergency apparatus.
OFAEMA works with the Emergency Vehicle Technician Certification Program to assure that all of our preparation classes meet their education standards. This will assure that the training mechanics receive at the local level is consistant with the training recognized by other states.

You can contact the Education committee by email or phone. rick@ofaema.org or 503-369-2053.
Next Board of Directors Meeting
September 29th 2018
Keizer Fire
12:00 noon